Dan Cammish, Colin Turkington and Ash Sutton all tasted victory at Donington Park as the BTCC returned to racing in style.
Race 1:
Pole sitter Colin Turkington led the field away from pole position as Ash Sutton took 2nd place from Cammish.
Sutton then set to work on taking the lead, passing Turkington into McLeans, allowing Cammish to go up the inside of them both in the process.
Through Coppice, Cammish re-passed Sutton who was then clipped and spun round by Turkington.
Further down the field, Adam Morgan and Ollie Jackson collided at the final chicane while fighting for 9th, both going off and losing places.
On lap 11 the safety car was deployed, as Nic Hamilton beached his VW in the gravel at the final chicane.
Senna Proctor also had issues as his new Hyundai pulled over, smoking away while pulling over.
After a lengthy safety car period to clear the cars, the race finally went green on lap 16.
On the restart, Ingram passed fellow Tom, Oliphant for 4th place, sending the BMW wide and allowing Matt Neal to slip his Honda past as well.
But Cammish controlled the race well, and secured his first victory of the season.
Completing the podium was defending champion Turkington and Motorbase's Rory Butcher.
Ingram came home 4th ahead of Neal and Oliphant, with Sam Osbourne in an impressive 7th place for Mark Blundell Motorsport.
Chris Smiley brought the Hyundai home in a solid 8th, with Stephen Jelley and Tom Chilton completing the top 10.
Adam Morgan, Josh Cook and Sutton finished 12th, 13th and 14th respectively after all 3 had off track excursions during the race.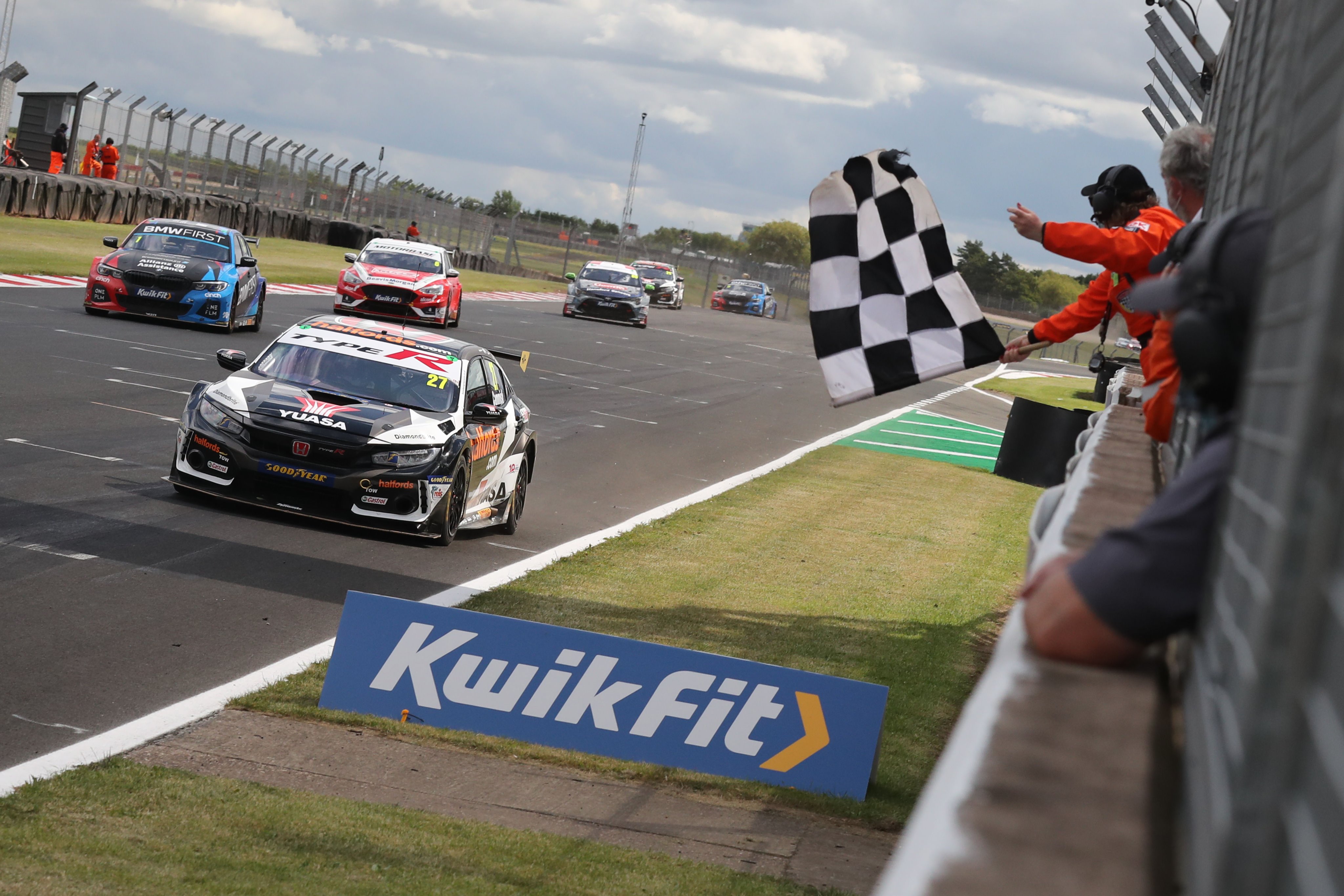 Race 2:
Race 1 winner Cammish lined up on pole for race 2, carrying the new 60kg of success ballast.
But it was defending champ Turkington who made the best start, jumping Cammish to lead  into turn 1.
The two Tom's were once again fighting, as Ingram passed Oliphant for 4th through Coppice.
The ballast shod Cammish was under attack, firstly by Butcher, who took 2nd from the Honda into the final chicane on lap 4.
Next up was Ingram, who executed the same move on Cammish to take 3rd a lap later.
Oliphant then relegated the pole sitter to 5th with a move into turn 1 straight after.
On lap 7, Aiden Moffat's Infiniti was given a 10 second penalty for being out of position on the start.
However, his teammate Sutton was on the charge and making up ground after his race 1 incident.
Having started 14th, Sutton was already up to 8th by lap 7, passing Chilton to do so.
Nic Hamilton found the gravel for a second time, this time beaching his car on the outside of Coppice.
This once again deployed the safety car, destroying the 3 second margin Turkington had built.
After another 4 laps under safety car, the race went green once again on lap 13.
Sutton got back to work straight away, his next target being Stephen Jelley for 7th.
But Jelley wasn't just going to roll over, as the pair battled through McLeans and Coppice.
This also allowed Chilton to get involved and made it 3 wide down the back straight.
But it was Ash who ended up on top, as Chilton took to the gravel through the final chicane.
Sutton's next target was BTCC veteran Matt Neal, who he dispatched easily into the final chicane for 6th on lap 16.
The 2017 champion then took the other Yuasa Honda through Coppice for 5th place a lap later.
But Turkington was untouchable, taking his 52nd career BTCC win, with Butcher in 2nd.
WSR teammate Oliphant took 3rd after re-passing Ingram on the penultimate lap.
Sutton's charge ended with 5th, with race 1 winner Cammish in 6th ahead of teammate Neal in 7th.
Adam Morgan came home 8th, with Jelley in 9th and Josh Cook rounding out the top 10.
Smiley finished 12th ahead of Chilton in 13th, with Jack Goff finish just outside the points in 16th.
After an impressive 7th in race 1, Sam Osbourne retired from the race, with teammate Hill also not seeing the chequered flag.
After a retirement in race 1, Senna Proctor failed to even see the start of race 2.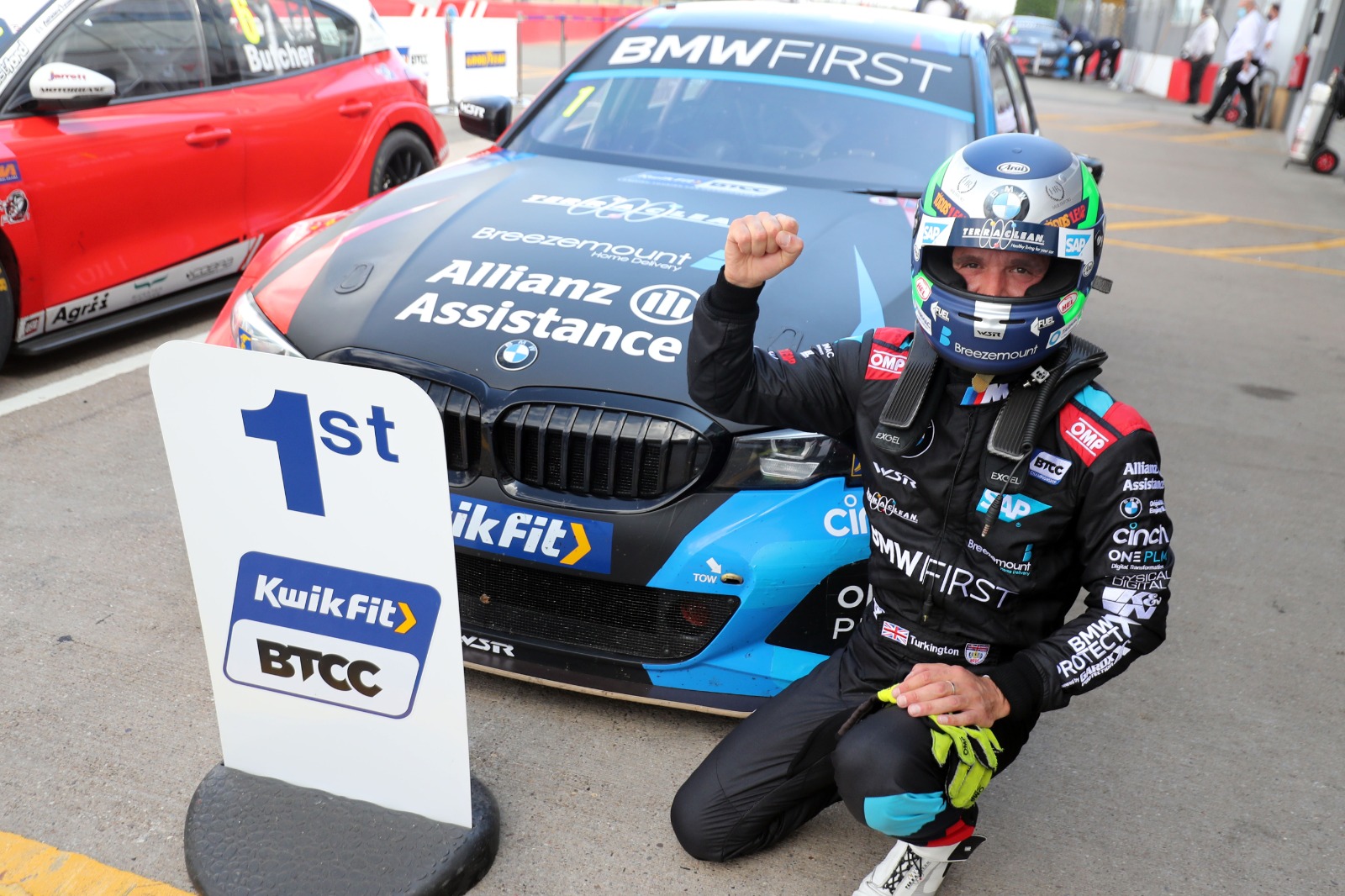 Race 3:
Race 2 winner Turkington was chosen to draw the pole sitter for race 3 and drew the Hyundai of Chris Smiley.
However, it would be Motorbase man Ollie Jackson who would lead into 1 from 2nd.
A 3rd safety car of the day was deployed as rookie's Butel and Brown came together through the Old Hairpin.
After a short SC period, Jackson led the field away on the restart on lap 3.
Behind, Cammish attempted a move on Jelley, but was squeezed out by the BMW and lost out to Sutton down through Craner.
Sutton then swiftly passed Jelley himself into the chicane and was released to chase the lead group.
Cammish finally got his move on Jelley into the final chicane, Jelley then lost control and went across the gravel, almost collect Ingram's Toyota in the process.
On lap 7 the action at the front really started to kick off as Smiley retook the lead through the Old Hairpin.
As Jackson lost momentum, Cook made his move for 2nd place through McLeans.
Then Morgan and Sutton made it 3 wide with Jackson through Coppice, relegating the Ford down to 5th place on a lap he began in the lead.
Sutton then took 2nd place off Cook into the final chicane on lap 9, and went after Smiley.
It didn't take long to catch, and the Infiniti driver took the lead on the next lap with the same move.
Bobby Thompson took his Audi for some Rallycrossing on lap 12, dropping 3 places doing so.
Tom Ingram made a move on race 1 winner Cammish into the chicane to take 6th on lap 14.
Proctor's unfortunate continued as he visited the gravel at McLeans on lap 16.
But out front Sutton was peerless, taking Infiniti's first ever BTCC win in their history.
Smiley gave Hyundai their first ever podium as well, with Josh Cook completing the podium.
Adam Morgan took a solid 4th ahead of early leader Jackson in 5th.
Ingram completed a very productive day with a strong 6th place in the Toyota.
Teammate pairings Cammish and Neal and Oliphant and Turkington completed the top 10.
Rory Butcher just missed the top 10 in 11th, with Tom Chilton behind in 12th.
Sutton's teammate Moffat missed out on points in 17th after a troubled day.
Jelley recovered from his spin to finish in 18th while Hamilton finally saw the finish in 21st.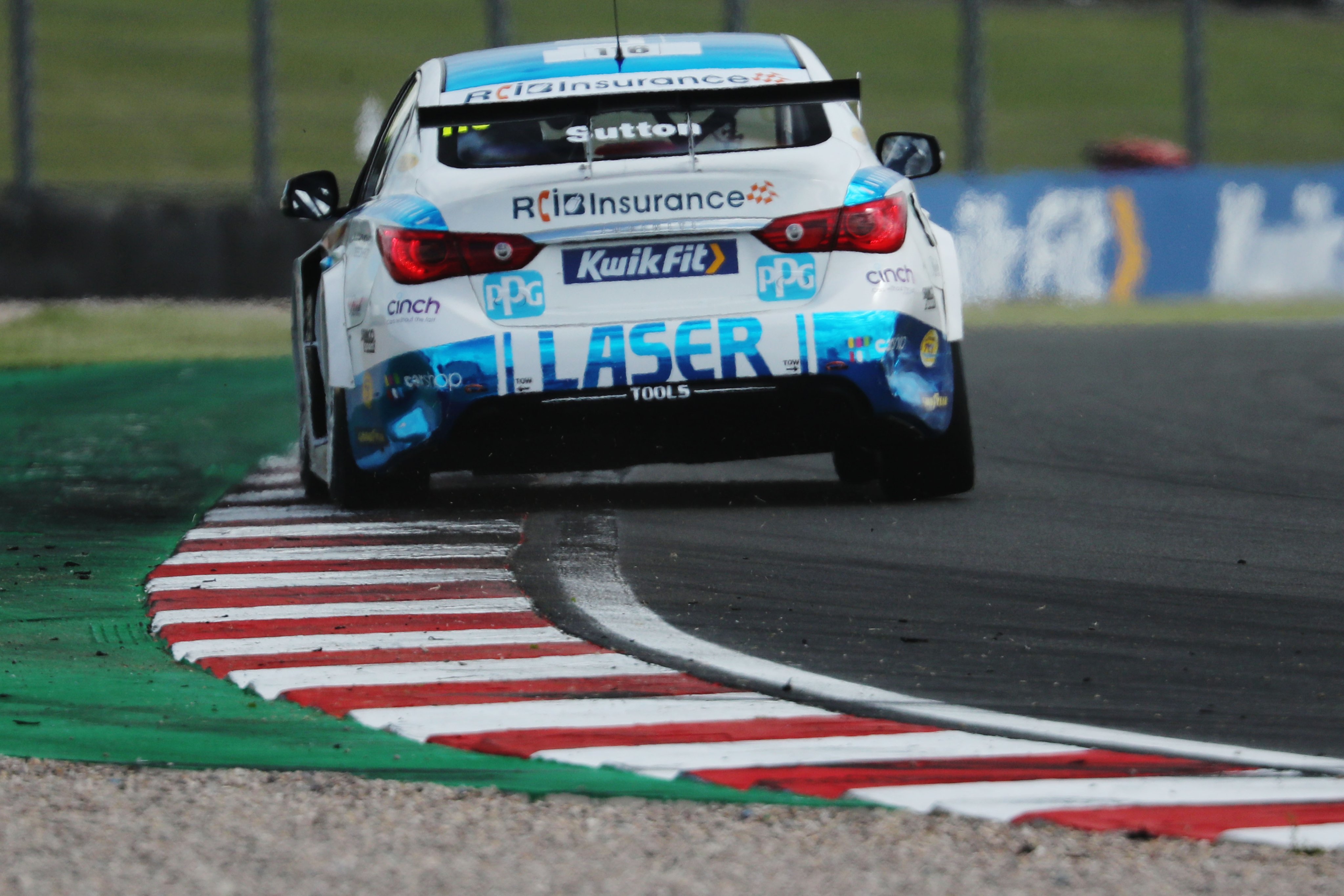 Leaving Donington:
Turkington leaves heads to Brands Hatch leading Butcher in the championship by just 6 points with Sutton and Butcher a further 3 points behind.
So after a cracking day of action at Donington Park, it's safe to say it was worth the wait.
BTCC returns in just 1 week at Brands Hatch for some more scintillating tin top action.